Partnerships, grants come to rescue as fire agencies face budget woes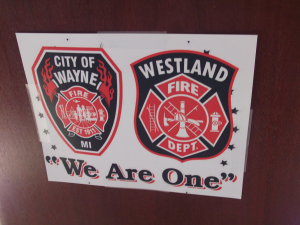 Fire Chief Michael Reddy oversees the new Wayne-Westland fire authority. He said the merger meant an initial savings of about $180,000 to Westland and $130,000 to Wayne and did not require layoffs. / Dec. 19 photo by ANDRE J. JACKSON/Detroit Free Pre
Second of two parts | Part 1: Mergers, contracts grow as Michigan police shrink 16%; budgets force scramble to keep public safe
Fire agencies across Michigan, strapped for cash in 2012, turned to consolidation and federal grants in an effort to quell budget woes.
And as departments look to become more efficient, consolidation is a trend one expert said is expected to grow in Michigan and across the nation.
"A lot of this started on the West Coast, and most communities have had some very successful consolidations," said Barry Greenfield of EfficientGOV, a municipal information service in Massachusetts that studies best practices for local governments.
EfficientGOV is monitoring the success of two Ohio towns, University Heights and Shaker Heights, in the development of a regional fire department.
"Initially, there is usually some resistance from the public; they're concerned that delay times are going to occur, or they're worried about the level of service., But the reality is, those concerns don't bear fruit," Greenfield said. "There are significant economies of scale to be had. The world has changed, and we have to do things differently."
Gov. Rick Snyder has encouraged efficiency in government and created a program to provide incentive-based grants to help offset the costs of such potential mergers or cooperative service sharing.
"The governor believes that such mergers can promote stronger communities, save money and help preserve or enhance critical services," said Snyder's spokeswoman, Sara Wurfel. "The state has worked hard to remove barriers to allowing regional cooperation to happen. ... He believes that such action should be up to each community to see how and where it works for them."
In the last year, the Wayne and Westland fire departments merged services, as did those of Pontiac and Waterford.
Fire Chief Michael Reddy, who oversees the new Wayne-Westland fire authority, said the July merger meant an initial savings of about $180,000 to Westland and $130,000 to Wayne and did not require any layoffs.
The two communities are expected to tally about 14,000 fire and EMS runs this year, he said. Reddy said the cities are able to provide better and more service because of the merger.
"You get more equipment, you get more firefighters and you do it all by saving money," Reddy said. "It's all about the service to our customers."
And, he said, there are hopes of growing the authority in 2013 by attracting more communities to join.
Next year, the communities also will look into merging dispatch services, Reddy said. Now, he said, Westland dispatches for its city police and fire, as well as Inkster's police and fire, and Wayne dispatches for its city police and fire, as well as Garden City's police and fire. If they merge, all four cities will be dispatched under one authority, Reddy said.
Cash-strapped Pontiac agreed to merge its fire department with that of nearby Waterford. The new Waterford Regional Fire Department, created in February, hired almost all of the former Pontiac firefighters and provides services to the adjacent city under a $6.2-million-a-year contract that will run through 2022.
Leaning on grants
Though some departments are merging to save money, several fire departments across the region have relied on federal grants to help beef up their ranks and preserve jobs.
In recent weeks, award announcements were made for the Warren Fire Department, which is to receive a $2.79-million grant to hire firefighters, and for Armada Township, where the Fire Department is to receive a $288,000 grant for staffing an additional firefighter/paramedic on each of its 24-hour day and night shifts.
But in Taylor, Mayor Jeffrey Lamarand stirred controversy this summer when he tried to refuse an $8.1-million federal grant to recall laid-off firefighters. He was court-ordered to accept the grant.
In July, the Detroit Fire Department was awarded a $22.5-million federal grant to restore 108 firefighters, just weeks after the city announced it would lay off 164 because of budget issues.
Dan McNamara, president of the Detroit firefighters union, said firefighters are aging and getting serious injuries on the job. The average age of a Detroit firefighter is 44, he said.
He said the city needs to hire more firefighters.
"That's the big thing," McNamara said. "We want hiring. We want the equipment and staffing to go out and do our jobs."
He said there are about 840 firefighters on the ground battling fires, compared with roughly 1,300 five years ago.
"You're not going to have people move into this city or stay in this city if they don't have public safety," McNamara said. "If you're afraid, you're not going to live here."
Detroit's challenges
The Detroit Fire Department has endured its own unique problems this year, including a lack of supplies, such as soap, hand towels and toilet paper. Firefighters told the Free Press they paid for their own paper and cleaning products.
Earlier this month, Art Van Furniture donated 150 mattress sets for Detroit firefighters. Fourteen sets of mattresses and box springs were already delivered to a station on the city's east side and an additional 136 will be delivered after Tuesday, according to Mayor Dave Bing's office.
A news release from the mayor's office said the donation was made through the Detroit Public Safety Foundation in support of the mayor's Active and Safe Detroit Campaign. The campaign, the office said, is a $50-million initiative to "help Detroit become a safer and healthier place to live, work and visit."
Art Van Elslander, founder of Art Van Furniture, is quoted in the news release as saying that the company wanted to help the city.
"It is an honor and a privilege for us to help ensure comfort and proper rest for these brave men and women who put their lives on the line for us every day," he said.
Contact Gina Damron: 313-223-4526 or gdamron@freepress.com